black-ductape
website under revamp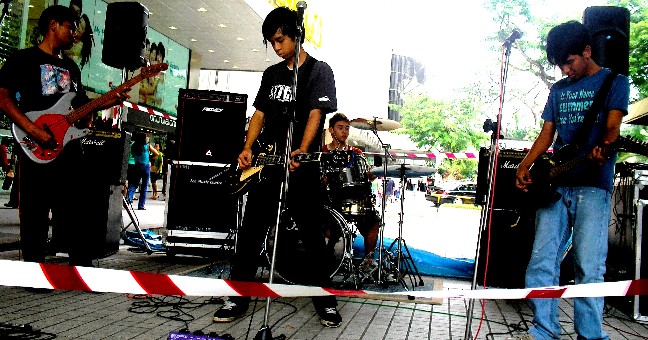 NAVIGATION: HOME BAND DISCOGRAPHY MEDIA TAG SHOWS CONTACT


Shows List:
29 July 2006: Bukit Panjang Amphitheatre - Youth Expression
23 July 2006: Far East Plaza - Tapestry 2006
22 July 2006: Far East Plaza - Tapestry 2006
21 January 2006: Beat Merchants - Play It Out Loud
13 August 2005: MICA - Reason
3 July 2005: Causeway Point - Rock Fest 2005
8 April 2005: Paya Lebar Methodist Girls' School - That Fund Thing'
1 January 2005: Kovan Hub - Rockin' Resolution
18 December 2004: Plaza Singapura - somethingood04
12 December 2004: Plaza Singapura - somethingood04
11 December2004: Bukit Panjang Amphitheatre - Cashew Music Mania 04
16 October 2004: Republic Polytechnic - doubleyellowline:basictheory
25 July 2004: Orchard Cineleisure - Tapestry 2004
29 May 2004: Maplewood Park - HeartRockSingapore

Show INFOs:

Youth Expression

Venue: Bukit Panjang Amphitheatre (opposite Bukit Panjang Plaza Starbucks)
Date: 29th July 2006
Time: 7.30pm
How to get there: Buses: 75, 960, 963, 171, 190, 975, 180, 187, 700, 176, 177. LRT: Bukit Panjang Station

Tapestry 2006

Venue: Far East Plaza
Date: 22nd/23rd July 2006
Time: 8pm/1pm

Play it Out Loud
Tickets are priced at $5 at the door.
Venue: Beat Merchants Studio( Bugis )
Date: 21st January 2006
Time: 4pm onwards

Play Out Loud is here!!!.
Brought to you by -cRuStz.n4a-
Performing Bands are:
-4-Thirty
-Black Ductape
-From Stars Above
-Mistreated
-My Sweet Revenge
-Video Kill The Radio
-Sound Of Saviour
-Toolbox Murder
-Unused Valentine

from September 2005 to end of November 2005, black-ductape will take a break because of major exams.

Tapestry 2005

Event: Tapestry 2005
Venue: Somewhere in Orchard, TBC
Date: TBC (August)
Other Bands: TBC (im sure that they'll be loads of bands)

Mica Gig

Event: Reason
Venue: 0107, MICA Building
Date/Time: 13 August 2005
Other Bands: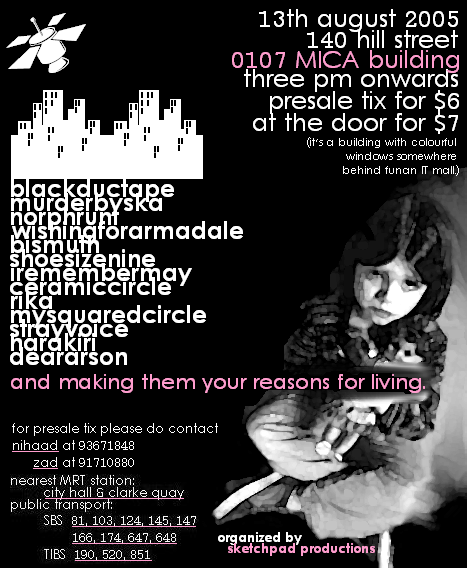 Anti-Drug Campaign

Event: "Get High on Life Without Drugs" Youth Awareness
Venue: Youth Park
Date/Time: 24 July 2005, time TBC
Other Bands: TBC

After 3 GROOLING MONTHS.....

Event: Rock Fest 2005
Venue: Woodlands MRT, Open Field
Date/Time: 3rd July 2005, 2pm to 6pm
Other Bands: Aeroplane, Vinnie, Blankpage, Underedge, Frequency Movement, The Leaven Trait, Kindred.


It was in a school in April, now UNIVERSITY?
POSTPONED!! DIFFERENT VENUE... more info later.
Event : TBC
Venue: National University Of Singapore (exact location unknown)
Time: 31 May 2005, time not confirmed
Other bands: TBC

THIS TIME IN A ALL-GIRLS' SCHOOL

Event: That Fund Thing'
Venue: Paya Lebar Methodist Girls' School
Time: 8 April 2005, 6pm till late
Other Bands: Velvet Rose, Bitter Liberty, The Subway Stars, The Leaven Trait, One Authority, Surreal

First Gig in The New Year

Event: Rockin' Revolution 2005
Venue: Kovan Hub
Time: New Year's Day, 2pm till late. Our slot is at 4+pm.
Other Bands: Rusty Nails, Shakespear, The Cox!, Munchies At 9, Black-Ductape, The Original Replicas
Dr. Rhy, Screamfront, Redbreed, Terminal Cry, Hellsing, Fatskunk, Subway Stars, Glitched
Fourteen 10, Documentary in Amber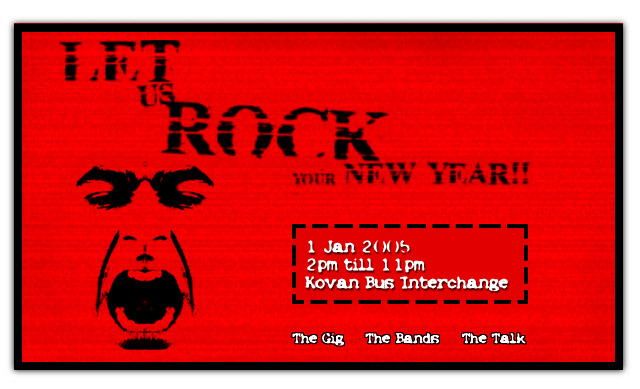 Playing for Children's Cancer Foundation

Event: somethingood04
Venue: All around Orchard Road.
Description: We got 3 dates for this event. We'll be playing 20-30 min slots every hour.

Time: 12 Dec, 11am-7pm
Venue: Plaza Singapura..
Other bands: Zhen, A Vacant Affair, Pale Pretense, Poff, Love at First Sight, Zack's Company

Time: 18 Dec, 11am-7pm ... our slot is at 5.30pm
Venue: Plaza Singapura
Other bands: A Vacant Affair, Set For Glory

Time: 24 Dec, 11am-7pm
Venue: Plaza Singapura
Other bands: Cancelled!!


Hometown Gig

Event: Cashew Music Mania For Youth
Venue: Blk 182, Bukit Panjang Ring Road. (Opp. Bukit Panjang Plaza)
Time: 11 Dec 2004, 7pm till late
Description: We'll be performing at about 8pm. Admission is Free
How to get there?: TIBS 171,960,963,75,180,187,700,176,177,190 (stop at Bukit Panjang Plaza). Or, you can take MRT to Chua Chu Kang and transfer to LRT, then stop at Bukit Panjang Station

DYL:BT

Event: doubleyellowline:basic theory
Venue: The Plaza, Republic Polytechnic
Time: 16 October 2004. From noon to about 9pm.
Description: We'll be performing from 1.45pm to 2.30.
How to go there?: Check out streetdirectory.com to find out how to go there.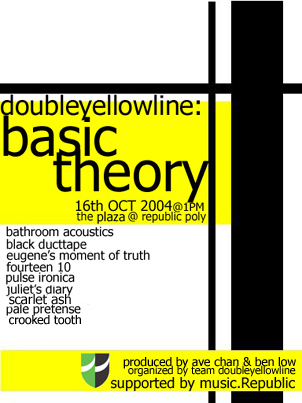 A Charity Event
Event: Tapestry 2004
Venue: Cineleisure Orchard (There are also other bands performing at other locations such as Far East Plaza, Paragon and Somerset)
Time: 25 July 2004........... 11.00am-9pm.(There are also other other bands performing on 24 July at the same locations)
Description: We are probably the opening band for the gig at Cineleisure Orchard. So, be there early.
How to get there?- Just take any bus which stops at Heeren. Then cross the main road.

Our very first performance!!
Event: Heartrock Singapore
Venue: Maplewood Park (opp. Paya Lebar Methodist Girls' School)
Time: 29 May 2004 .......... 4pm-9pm
Description: There will also be other bands. We will be peforming at about 5 pm. But pls, check out the other bands too.
How to get there?- Take BUS 53 from Bishan Interchange. Stop at Paya Lebar Methodist Girls' School. The park is only about a few hundred metre from the bus-stop.